BloodStained:Ritual of the Night Mods Available for Download
About The Game
Bloodstained: Ritual of the Night is the FULL game experience, an exploration-focused, side-scroller action RPG packing all of the best features you've come to know and love from the Metroidvania genre into a single, content-packed game. Play as Miriam, an orphan scarred by an alchemist's curse which slowly crystallizes her body. In order to save herself, and indeed, all of humanity, she must battle her way through a demon-infested castle summoned by Gebel, her old friend whose body and mind has become more crystal than flesh.
More Informations
Released: June 18, 2019
Genre: Action, Adventure, RPG
Developer: ArtPlay
Publisher: 505 Games
Mods Graphics
It is page contain all mods available for download for this game, select your preferred mod and download.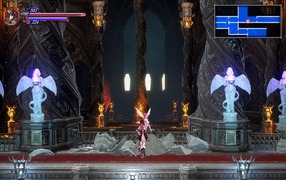 Photorealistic BloodStained Ritual of the Night
BloodStained
30/07/2022
Shaders
Reshade Preset for BloodStained Ritual of the Night. Enchantings colors,sharperning textures and bloom of this game.
Download Page
17/02/2023
Article about how to remaster olds games with upscaling textures.
Read news
13/02/2023
Article about how to RTX Remix is remastering old games bringing ray tracing to them
Read news
11/02/2023
Article about revolution of ray tracing in games and how to change graphics for next gen and make more realistic.
Read news
11/01/2023
Article about ENBSeries showing is more best mods graphics tool for enchant you game graphics.
Read news
14/12/2022
Article about Reshade for show more about fantastic modding tool.
Read news
04/08/2022
My site has lot of changes and improvements for see in this news.
Read news