Call of Duty WWII Mods Available for Download
About The Game
Call of Duty® returns to its roots with Call of Duty®: WWII – a breathtaking experience that redefines World War II for a new gaming generation. Land in Normandy on D-Day and battle across Europe through iconic locations in history's most monumental war. Experience classic Call of Duty combat, the bonds of camaraderie, and the unforgiving nature of war against a global power throwing the world into tyranny. Authentic weapons and traditional run-and-gun action immerse you in a vast array of World War II-themed locations. The Co-Operative mode unleashes a new and original story in a standalone game experience full of unexpected, adrenaline-pumping moments.
More Informations
Released: November 2, 2017
Genre: Action, Adventure
Developer: Sledgehammer Games, Raven Software
Publisher: Activision
Mods Graphics
It is page contain all mods available for download for this game, select your preferred mod and download.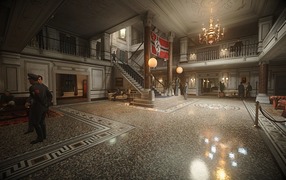 Photorealistic Call of Duty WWII
Call of Duty WWII
30/07/2022
Shaders
Reshade Preset for Call of Duty WWII. Enchantings colors,sharperning textures and bloom of this game.
Download Page
17/02/2023
Article about how to remaster olds games with upscaling textures.
Read news
13/02/2023
Article about how to RTX Remix is remastering old games bringing ray tracing to them
Read news
11/02/2023
Article about revolution of ray tracing in games and how to change graphics for next gen and make more realistic.
Read news
11/01/2023
Article about ENBSeries showing is more best mods graphics tool for enchant you game graphics.
Read news
14/12/2022
Article about Reshade for show more about fantastic modding tool.
Read news
04/08/2022
My site has lot of changes and improvements for see in this news.
Read news