God of War 4 Mods Available for Download
About The Game
His vengeance against the Gods of Olympus years behind him, Kratos now lives as a man in the realm of Norse Gods and monsters. It is in this harsh, unforgiving world that he must fight to survive… and teach his son to do the same. Kratos is a father again. As mentor and protector to Atreus, a son determined to earn his respect, he is forced to deal with and control the rage that has long defined him while out in a very dangerous world with his son. From the marble and columns of ornate Olympus to the gritty forests, mountains and caves of pre-Viking Norse lore, this is a distinctly new realm with its own pantheon of creatures, monsters and gods. With an over the shoulder camera that brings the player closer to the action than ever before, fights in God of War™ mirror the pantheon of Norse creatures Kratos will face: grand, gritty and grueling. A new main weapon and new abilities retain the defining spirit of the God of War series while presenting a vision of conflict that forges new ground in the genre.
PC FEATURES:
High Fidelity Graphics: Striking visuals enhanced on PC. Enjoy true 4K resolution, on supported devices, [MU1] with unlocked framerates for peak performance. Dial in your settings via a wide range of graphical presets and options including higher resolution shadows, improved screen space reflections, the addition of GTAO and SSDO, and much more.
NVIDIA® DLSS and Reflex Support: Quality meets performance. Harness the AI power of NVIDIA Deep Learning Super Sampling (DLSS) to boost frame rates and generate beautiful, sharp images on select Nvidia GPUs. Utilize NVIDIA Reflex low latency technology allowing you to react quicker and hit harder combos with the responsive gameplay you crave on GeForce GPUs.
Controls Customization: Play your way. With support for the DUALSHOCK®4 and DUALSENSE® wireless controllers, a wide range of other gamepads, and fully customizable bindings for mouse and keyboard, you have the power to fine-tune every action to match your playstyle.
Ultra-wide Support: Immerse yourself like never before. Journey through the Norse realms taking in breathtaking vistas in panoramic widescreen. With 21:9 ultra-widescreen support, God of War™ presents a cinema quality experience that further expands the original seamless theatrical vision.
More Informations
Released: June 26, 2012
Genre: Action, Adventure, RPG
Developer: Santa Monica Studio
Publisher: PlayStation PC LLC
Mods Graphics
It is page contain all mods available for download for this game, select your preferred mod and download.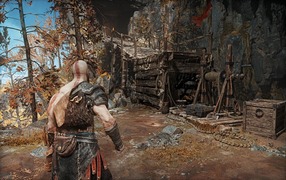 Photorealistic God of War 4
God of War 4
30/07/2022
Shaders
Reshade Preset for God of War 4. Enchantings colors,sharperning textures and bloom of this game.
Download Page
17/02/2023
Article about how to remaster olds games with upscaling textures.
Read news
13/02/2023
Article about how to RTX Remix is remastering old games bringing ray tracing to them
Read news
11/02/2023
Article about revolution of ray tracing in games and how to change graphics for next gen and make more realistic.
Read news
11/01/2023
Article about ENBSeries showing is more best mods graphics tool for enchant you game graphics.
Read news
14/12/2022
Article about Reshade for show more about fantastic modding tool.
Read news
04/08/2022
My site has lot of changes and improvements for see in this news.
Read news