Path of Exile Mods Available for Download
About The Game
Path of Exile is a free-to-play action role-playing video game developed and published by Grinding Gear Games. Following an open beta phase, the game was released for Microsoft Windows in October 2013. A version for Xbox One was released in August 2017, and a PlayStation 4 version was released in March 2019.
Path of Exile takes place in the dark fantasy world, where the government of the island nation of Oriath exiles people to the continent of Wraeclast, a ruined continent home to many ancient gods. Taking control of an exile, players can choose to play as one of seven character classes – Marauder, Duelist, Ranger, Shadow, Witch, Templar, and Scion. Players are then tasked with fighting their way back to Oriath, defeating ancient gods and great evils during their journey.
More Informations
Released: October 23, 2013
Genre: ARPG
Developer: Grinding Gear Games
Publisher: Grinding Gear Games
Mods Graphics
It is page contain all mods available for download for this game, select your preferred mod and download.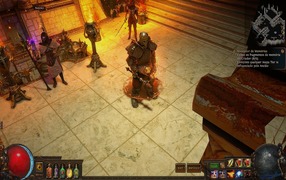 Photorealistic Path of Exile
Path of Exile
30/07/2022
Shaders
Reshade Preset for Path of Exile. Enchantings colors,sharperning textures and bloom of this game.
Download Page
17/02/2023
Article about how to remaster olds games with upscaling textures.
Read news
13/02/2023
Article about how to RTX Remix is remastering old games bringing ray tracing to them
Read news
11/02/2023
Article about revolution of ray tracing in games and how to change graphics for next gen and make more realistic.
Read news
11/01/2023
Article about ENBSeries showing is more best mods graphics tool for enchant you game graphics.
Read news
14/12/2022
Article about Reshade for show more about fantastic modding tool.
Read news
04/08/2022
My site has lot of changes and improvements for see in this news.
Read news